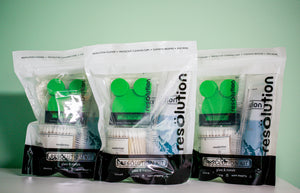 Resolution
Resölution "Bong & Pipe" Cleaning Kit
Regular price
$30.00
$0.00
Unit price
per
Products by @ResölutionColorado.
Resolution's bong cleaning kits combine innovative Res Caps® with our powerful Res Gel® giving you everything needed to keep your glass bongs, pipes and accessories as clean as the day you bought them.
Bong Cleaning Kit includes:
Res Caps
Res Gel
Stick Brush
Cotton Swabs
Res Rag
Glass Bong Cleaning Kits & Pipe Cleaning Kits
Use Res Caps® to seal your bong during cleaning, traveling or storing to prevent spills and bad odors. Everything you need to clean your bong or to clean your pipe.
Water Pipe Cleaning Kits
With Resolution's Shake-a-Bag resealable pouch, cleaning small pipes and accessories has never been easier. Or use the screw top spout to pour Res Gel® directly into your bongs and rigs.
Your days smoking resin caked pipes and bongs are over. Buy the Resolution Original Res Kit and make cleaning your glass quick and easy!  
---